Skip to end of metadata
Go to start of metadata
Because Corporate Suite software was not designed to report prior year* filings via the Service Bureau, users must enter our transmitter information, create an electronic file, manually post the file on our secure FTP site, and then notify the Service Bureau. The Service Bureau downloads this file from our FTP site and processes it. Standard Service Bureau rates apply.
* Includes all Prior Year Original, Correction, and Replacement records.


IMPORTANT:  Corporate Suite users should internally hold all Prior Year eFile submissions to the Service Bureau from 11/22/2022 until early February 2023, see Service Bureau Downtime.
Step 1—Enter Service Bureau TCC
On the Corporate Suite menu bar -> File -> Electronic Filing Transmitter.
Select the type of transmitter.
Update the Electronic Filing Transmitter Information screen:

Transmitter Control Code (TCC)
Enter 59M04 only for 1099/1098/5498 series form types
Enter 22CW0 for 1042-S forms
Transmitter TIN: 95-4185342 (the dash is required)
Transmitter Name: 1099 Pro LLC
Contact Name: 1099 Pro Service Bureau
Contact Phone: 866-444-3559
Company (TCC Owners) Address: 200 Ballardvale Street, 4th Floor, Wilmington, MA 01887

Click "Save".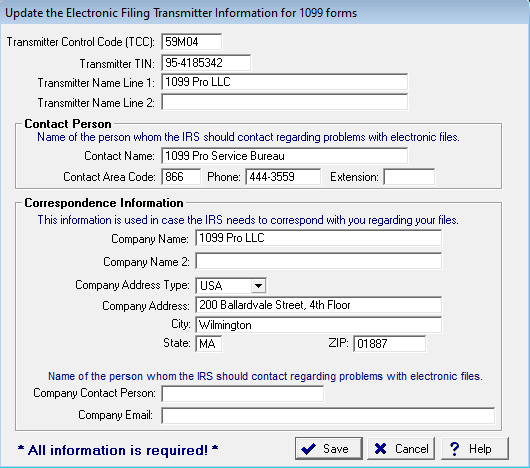 Step 2—Create Electronic File
On the Corporate Suite menu bar -> Filing -> Create IRS and State Electronic Files.
Select the form type to process.
At the Begin a New eFile Generation Screen, click "Create an IRS FIRE or AIR eFile" button.
In the Create Electronic File Wizard, select appropriate options.

For guidance, search "1099 Electronic Filing Wizard" in the Corporate Suite help file.

At "Step 8: TCC & Contact Info", verify that the correct TCC, name, and email are selected.
Select "Create File" to generate prior year eFile.

Step 3—Manually Upload File
This process requires you to manually upload your electronic file to our SOC I Type II Service Bureau via FTP.
In your web browser go to https://uploads.1099pro.com/.

Login ID: 1099upload
Password: 2004

After Login, click the "Upload" button and browse for your electronic file. In a standard installation, this file is located at C:\1099 Pro\Pro99CS\MagFiles and is suffixed with ".IRS" or ".TXT" or ".XML" (depending on the file type).
Step 4—Notify Service Bureau
Properly submitted email notification is required to authorize the Service Bureau to process the eFile. Without this notification, your eFile cannot be processed.
Email: CSPY@1099pro.com
Subject Line:

Prior Year Processing Required

Email Body: List the file name(s) posted on the FTP site and any relevant details
Final Steps 
The Service Bureau will acknowledge your email notification. Once the IRS accepts (or rejects) your eFile, we will email you the eFile Name and the IRS/SSA file reference number.
Questions?
Email your Corporate Suite Account Manager directly for help with this process (or CorporateSuite@sovos.com for general CS help). For Prior Year eFile status requests, email SB@1099pro.com.
Policy Change Effective September 2022